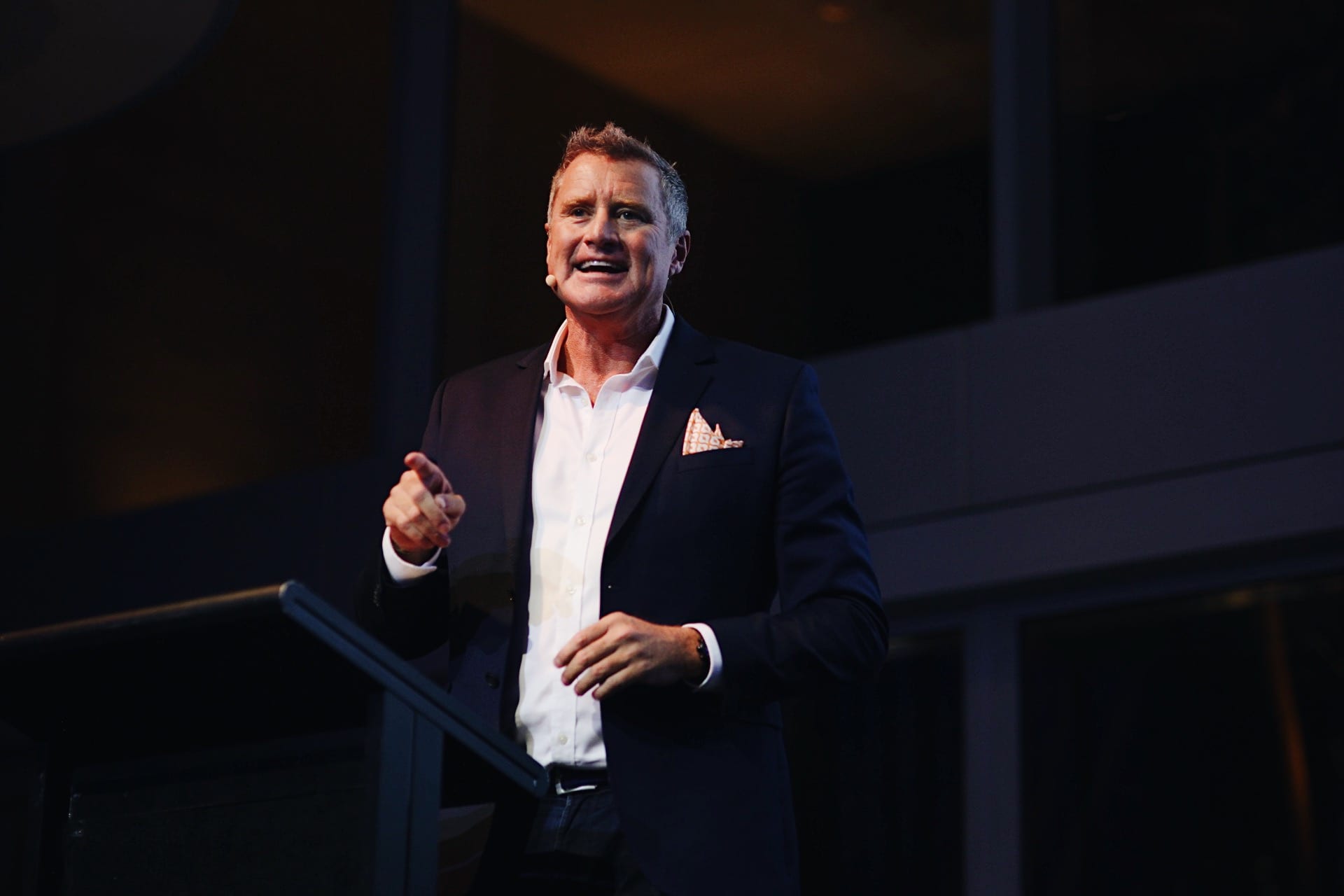 Tim is the founder and host of
Australia's #1 and longest running business marketing podcast
– The Small Business Big Marketing Show
,
which can be found on the Apple iTunes store, Spotify as well as inflight on all Virgin Australia domestic and international flights. His highly informative weekly show was awarded
Australia's Best Business & Marketing Podcast
at the 2018 Australian Podcast Awards.
Each week, Tim shares marketing insights and tips to help you build that beautiful business of yours in to the empire it deserves to be.
Having launched his hit program ten years ago and with well over 490 episodes and three million downloads under his belt, it regularly ranks in iTunes above The Tim Ferris Show, Seth Godin's Start Up School and and even outranks the Harvard Business School's show, as Australia's number one business marketing podcast.
Tim has built a global audience of motivated business owners in 110 countries, and is the author of The Boomerang Effect, a popular marketing text. He is also Australia's most practical marketing keynote speaker.
Prior to this, he was the marketing manager for Flight Centre and spent ten years working in Australia's largest advertising agency looking after the advertising needs of Gillette, AXA, Yellow Pages and Dulux.
Tim was instrumental in helping AFL legend Jim Stynes raise $1M dollars for youth charity, Reach. He now travels the world showing business owners and marketers how to embrace modern
marketing methods – gaining success and increasing profits, without spending a fortune.
Tim is also an engaging and entertaining emcee, having emceed the Telstra Business Awards around Australia, and is the emcee for the annual Australian Podcast Awards.
The bottomline? Tim believes there's never been a better time to start and market a business. Ever!
What does Tim speak on?
The Little Known Marketing Secret
How one simple change to marketing your precious business can attract more of the right customers and make you more money.
The marketing world has changed in the past month, the past 6- months, certainly the past 12-months. The great news is, these changes play right into the hands of you … the business owner or marketer.
In fact, there's never been a better time to market anything. Ever!
So join Tim Reid, radio personality, host of The Small Business Big Marketing Show (Australia's #1 business marketing podcast) and author of The Boomerang Effect, as he introduces you to a simple yet highly effective marketing approach that makes you look like a legend, returns more of the right customers and makes you more money.It's all about telling … not selling.
In this educational yet highly entertaining keynote, you'll discover:
How to bust the self-limiting beliefs that hold back many business owners from nailing their marketing
How Google works and the trick to getting on the coveted
A simple 3-step plan for never running out of useful content that will constantly surprise and delight your prospects and customers
How to position yourself and your business as an industry expert
Practical ways to use video marketing, podcasting, blogging, self- publishing & social media to generate more pre-qualified enquiry and grow your business
All backed up by inspiring, real-life case studies of real businesses doing amazing things.
10 Kickass Marketing Ideas from 10 Kickass Entrepreneurs
How to take the best creative marketing ideas of highly successful small business owners and apply it to your work (and life!)
Over the past 10 years, Tim Reid has had deep conversations with hundreds and hundreds of successful business owners on his award-winning podcast The Small Business Big Marketing Show.
In each of these fireside chats, they have generously shared their amazing business journey, the ups and the downs of building their empire, along with what role marketing played in getting them to where they are today
So join me, Tim Reid, radio personality, podcaster and author of The Boomerang Effect, as he shares some of the best marketing ideas from some of the world's smartest entrepreneurs.
In this educational yet highly entertaining keynote, presented like the opening monologue from a late night talk show, you'll discover:
How a boutique LA-based fashion designer (accidentally) created the world's most viral and successful marketing video
How a cringeworthy radio creative strategy lead to the creation of two multi-million dollar FMCG brands
Why and how a New York-based entrepreneur is making a motza from selling cuddles. Yes, cuddles!
How a lost giraffe enabled Ritz Carlton to create an unforgettable customer experience
Why extreme product demonstrations are good for business
How a deeply depressed Dentist completely turned his business (and life) around by breaking with his industry's outdated conventions
And how an Electrical Franchise's 21-Step Customer Mantra lead to it becoming Australia's fastest growing trade franchise
Tim as an Emcee and Facilitator
Over the past 11 years Tim has attended thousands of conferences across 12 countries – as an emcee, a panel facilitator, a keynote speaker, a workshop presenter … even as a delegate!
He's emceed many conferences including the Telstra Business Awards, the Australian Podcast Awards, and the American Express Idea Exchange.
He's facilitated panels a variety of panels including at the annual conferences of the Australian Financial Planners Association, BIG4 Caravan Parks, and Westpac Bank.
He's delivered 100's of keynotes including for the REIV, David Jones, Platinum Electricians, Husqvarna, and The CEO Institute.
In that time, Tim's also interrogated (well at least interviewed!) over 500 successful business owners on his award-winning podcast The Small Business Big Marketing Show – downloaded over 4-million times via iTunes, Spotify and inflight on Virgin Australia.
With all this experience, Tim's 100% certain about one thing when it comes to running a successful conference … that a great emcee / panel facilitator should go unnoticed, making everyone else the hero. Tim will work with you to ensure your conference and event is seamless and through his extensive experience, he'll super-charge the delegate experience.
To that end, Tim focuses on making heroes out of anyone with whom he shares your stage and reinforce the conference content learnings with the audience.
5 reasons to book Tim Reid as your next conference emcee and / or panel facilitator
1. Tim will put the necessary work in to deeply understanding every aspect of your conference to include timings, speaker details, audience insights along with your particular do's and don'ts.
2. Tim will make himself available for an overall briefing with you and your team, but just as importantly, he'll speak 1-on-1 with each speaker/panel member to ensure they're comfortable and have all the necessary information so they can focus on what they do best.
3. Tim's innate curiosity and empathy for people and business shines through in the way that he introduces and interacts with everyone who joins him on stage. This means great introductions, and questions that he knows the audience want the answers to.
4. Tim's attended enough conferences to know that as an audience member, it's sometimes hard and nerve-wrecking to get involved … to this end, his welcoming nature puts everyone at ease giving them the confidence to ask questions, make comments, feel valued.
5. Tim's not precious. In fact, he's ridiculously fun and easy to work with. Changes on the hop? No worries. "Bring them on", he says!
What clients say about Tim…
"Tim Reid's presentation on social media to our guests was outstanding. The feedback we received was universally positive. Not only is he engaging and energetic with an impressive and broad knowledge-base, he understands that for most people, the value in attending seminars is to come away with something practical. That was our brief and Tim nailed it. We've already had people saying they would come to more seminars we host because of the quality of what Tim delivered for us."
Kammeron Cran
Group Marketing Director / Leader Community Newspapers
"I was very impressed with Tim's input. He is intelligent, he has a presence and the energy to keep the momentum going over a prolonged period. The feedback we had from the twenty staff was universally positive."
Professor Terry Dwyer
Director / Murdoch Childrens Research Institute
"Although I work for a global organization, you have inspired me to examine the idea of personal brand, adding value, being a leader in my field and how I can develop, improve and market MYSELF better than I had ever imagined. … A huge thanks! "
Peter Allen
Branch Manager / Applied Industrial Technologies
"Tim Reid gets marketing. … And he shares his knowledge in a fun, down-to-earth, realistic way. If you're looking for solid branding and marketing advice that you can implement tomorrow and benefit from shortly thereafter, then talk to Tim."
Colin Lear
Founder & CEO / Tasty Trucks
"Tim has an uncanny ability to immediately engage and captivate the audience with his friendly and warm demeanour. … If you're looking for someone who can motivate, spark ideas, and provide "golden nuggets" of tools and strategies that can be used immediately – you can do no better than Tim"
Lisa Fomin
Risk Manager / CMH Group
"He provided us with great ideas that we were able to implement ASAP. … He shared relevant examples of how he had helped other businesses. … Don't miss any chance to see Tim present."
Matthew Aitchison
National Manager / OAMPS