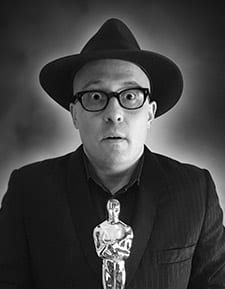 Adam Elliot is not only the Academy Award winning Animator of Harvie Krumpet, but also one of Australia's funniest, unique, refreshing speakers and after dinner raconteurs. A classic underdog tale, he has told his witty and inspiring life story to over 500 groups here and abroad.
Adam has made new films since winning the Oscar with some of the world's leading actors that includes Geoffrey Rush, Philip Seymour Hoffman, Eric Bana, Toni Collette, and Barry Humphries. Viewed by millions of people around the world his six films have participated in over eight hundred film festivals and won over 100 awards. In 1999 he was the Young Achiever of the Year for Victoria and is a voting member for the Annual Academy Awards. He was recently declared a Melbourne Icon by the Lord Mayor of Melbourne, and is currently developing his new feature film due for release in 2020.
What does Adam speak on?
The son of an acrobatic prawn farmer, over the last decade Adam has spoken at virtually every type of event and conference, from the giants at Google and Apple to a bunch of hairdressers in Borneo. He often receives applause throughout his talks and leaves audiences thoroughly entertained and exhausted.
Far from an overnight success, Adam spent years animating blobs of plasticine in a run down storage unit in searing summer heat and freezing Melbourne winters. Despite running out of money, being dumped by his partner, moving home with his parents, and ending up on the dole, he was determined to finish Harvie Krumpet no matter what the odds.
The big question…does he bring his Oscar to his talks?
Always bringing his Oscar with him and accompanied by a dazzling slide presentation, he gives a blow by blow account of his Oscar experience in Hollywood and how he took on the giants at Disney, Pixar and Fox to win his Academy Award.
Adam as an MC
In addition to being a wonderful speaker, Adam often MC's dinners and events. He has hosted over 100 events including:
Telstra Annual Awards, Top 100 Mortgage Brokers Awards at the Paramount Studios in Hollywood, The AFI Awards (Sydney Star Casino) and a state by state awards series for a Private Health Fund (name escapes me), Make A Wish annual dinner, ATOM Awards Regent Ballroom . Adam has also hosted lots of private events, Q and A sessions at MIFF and at other festivals here and overseas.
What clients say about Adam…
"Adam was extremely inspirational entertaining and humorous. The audience's feedback has been overwhelmingly positive, and he has no doubt inspired and motivated those who were lucky enough to see him to pursue their passion."
Apple Inc Australia.
"Brilliant!"
Google, Australia
"Is there a higher grade than excellent? Adam was absolutely fantastic and a joy to work with. He was inspiring, funny, down to earth and even stayed after the presentation to take photos with the guests; that was an unexpected surprise and bonus."
Tattersalls
"Adam is absolutely delightful. We couldn't wipe the smiles from the delegates' faces."
Australian Funeral Directors Association
"Adam was an absolute delight. His talk engaged our people and was a source of humour and inspiration. His speech capped off a three day program and really brought it all into perspective and ensured the audience left on a high."
Commonwealth Bank

"Adam was absolutely fantastic and stayed and entertained my clients long into the afternoon which was above what we expected, I would strongly recommend him."
Fuji Xerox