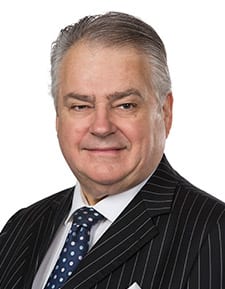 Dr Keith Suter is the Managing Director of the Global Directions think tank. He is an economic and social commentator, strategic planner, author and broadcaster. He is considered one of Australia's most influential Global futurists and media commentators in national and foreign affairs.
He has also been a member of the prestigious Club of Rome since 1993. The Club is "an informal association of independent leading personalities from politics, business and science, men and women who are long-term thinkers interested in contributing in a systemic interdisciplinary and holistic manner to a better world. The Club of Rome members share a common concern for the future of humanity and the planet." The club has only 100 members, with Mikhail Gorbachev amongst them.
Keith has achieved three doctorates. The first of these was about the international law of guerrilla warfare (University of Sydney), and the second about the social and economic consequences of the arms race (Deakin University) and a third doctorate on scenario planning (Sydney University).
As a broadcaster, he appears on Australian radio an average of once a day. He is Channel Seven's "Sunrise" foreign affairs editor and also a foreign policy analyst for Sky TV Australia.
In 2019 Keith was appointed as a Member (AM) of the Order of Australia.
What does Keith speak on?
Keith is an experienced, professional and awarded presenter renowned for explaining complex global and business issues in a way his audiences can understand.
Below is a list of Keith's key topic areas, however Keith always tailors his presentations in response to a client's brief. Keith's discussions are always very topical and audience-specific.
Futurist
Global Affairs

National Affairs

Globalisation

Leadership

Economics

Not for profit organisational development

Strategic Planning

Corporate Governance

The Environment

Keith as an MC and facilitator
Keith is also in high demand a business MC and facilitator. Combing his extensive academic and business experience, Keith is able to bring immense value to any MC or facilitation role for virtually any industry sector.
What do clients say about Keith?
"Keith is arguably the best Keynote we have had for one of our conferences. His depth of knowledge and ability to link and explain complex issues in a simple and compelling framework had all delegates hanging on his every word. I would highly recommend him to anyone looking for an engaging keynote who is not afraid to operate without PowerPoint."
Instil Group
"Dr Suter is an exceptional speaker with the presence to hold the interest of the audience from beginning to end."
Property Council of SA
"Highlights of the day included the very powerful and thought provoking keynote address by Dr Keith Suter. Keith Suter's presentation was superb, his views on the importance of global education in the schools curriculum was well received by all attendees and staff, we have had some fantastic feedback regarding his presentation."
World Vision Australia
"Excellent. Dr Suter spoke at the VACC President's Dinner for 40 minutes, but it only seemed like 20. His intellect and knowledge is awesome, but he presented some extremely complex and serious global matters in a language that all could understand. Not only was his presentation extremely interesting, but very entertaining. It was a pleasure working with Dr Suter."
VACC
"Dr Keith Suter was excellent and very favourably received by our audience. He spoke eloquently on the topic assigned to him and used was a wonderful addition to our conference line-up."
Kimberly-Clark Australia Pty Ltd
"Amazing presenter with a depth of knowledge on change and disruption that is the best I have heard. People at our conference said that they could have listened to Keith for the entire day and wanted more"
Sanitarium